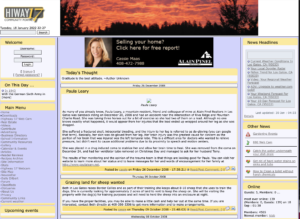 On this date, the Hiway17.com website was launched. It was approximately two years after graphical web browsers became the default way to visit the web. Prior to that, it was all text and tools like Turbo Gopher were popular.
The hiway17 website was originally designed to show traffic on Highway 17. At that time, I was living in Aptos and commuting to Palo Alto. The idea was to show the traffic on Highway 17 so I could decide if I wanted to drive over the hill by way of Highway 17 or take the longer back way through Morgan Hill. The weather in 1996 was bad. There were several large landslides on Highway 17 and during commute traffic, the road was closed and operated in the commute direction only.
The first webcam was just a still photo that was taken every five minutes that showed the traffic on Highway 17. The still photo was posted and updated as video capture. The initial system consisted of a Sony Video Camera, some video screen capture software, a computer, and a small outhouse-looking building located in Redwood Estates on Mary Alice Way. This setup was originally put into place by Gary Toro Dresden and Cassandra Maas.
Gary located the installation site, Gary built the site and Cassandra provided the funds and equipment. Gary managed the site. Gary received an award from the Santa Cruz County Regional Transportation Commission for the site as it provided a view into traffic conditions on Highway 17 which were not readily available at that time. At some point, Gary gave up on the site and posted a simple RIP on the site. At that point, Cassandra took over management of the site and turned it into a more local website with an emphasis on the area around Highway 17 and the history of the highway.
After a short time, the site became inactive with few updates.
In 2006, the site came alive to report on the Croy Fire. Information was updated rapidly and became the go-to location for information on what was happening. The site launched a new look that was more community-focused and featured a discussion forum that allowed community members to discuss their concerns and receive information about local issues.
Since then, the website has been quiet with few updates. However, our plan is to revive the popular Hiway17.com website and turn it back into the community-focused website it once was. It is being launched in January 2022 with a new look and a new purpose. We hope you participate and that you enjoy it.
Thank you for visiting.
Special thank you to Gary Toro Dresden, Jim Quillen, Kimberly Szabo and all of the community members who have contributed to the site over the years.
Spe
I dTh